Senior Emma O'Donnell Tackles Novel November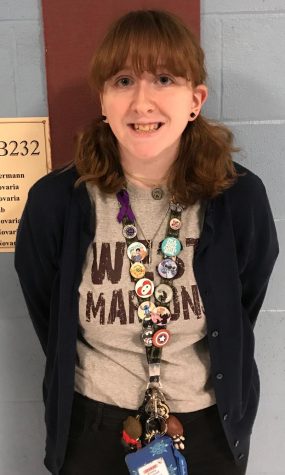 November is a month filled with events such as Thanksgiving, Veteran's Day, and even National Pickle Day. One event in particular that fills the whole month is National Novel Writing Month. National Novel Writing Month is a challenge that is set up by the non-profit organization NaNoWriMo. This challenge starts on November 1st and the goal is to write 50,000 words of a novel in thirty days.
Writing a novel seems like a daunting task to most people, especially students with an already heavy workload. Senior Emma O'Donnell felt otherwise and tackled this project head on. 
"I had fun writing it. Granted, I decided to write it in a week and I was up all hours of the night doing it, but it gave me an excuse to just put in my earbuds and ignore the world while I wrote whatever I wanted," said Emma O'Donnell. 
This challenge was suggested to Emma by her English teacher Mr. Lodle through the National English Honor Society at Belleville West.
"We offered the opportunity to all students in the National English Honor Society, and I know because I have Emma in class that she is someone who does a lot of creative writing anyways," Mr. Lodle said.
Since this challenge was based on creative writing, the contents of the novel could be about anything and everything. 
"It's basically a Snow White retelling if Snow White's name was taken literally and she had snow powers. It is about this girl named Ebony, who is framed for the murder of her father by her step-mother," O'Donnell said.
This story includes trials such as family drama and trying to control power all while avoiding the law. It is also filled with different characters such as a thief with killer aim, a mermaid who wants to be a human, and a prince who wants to live by the sea. 
"I will eventually write a sequel to this story and post it on my Wattpad account since that's where I do all of my writing," said O'Donnell.