Student Council Starts Off the Year Fresh with New Ideas
The student council has been working hard to make changes in hopes of making the school year more fun for students.  They have made some adjustments to the year's schedule, and are adding new and exciting things to make this year a more interesting one.  
Student council has brought back old traditions and made some new ones for this school year. Starting with what is not happening, there will be no winter dance, or Donkey basketball.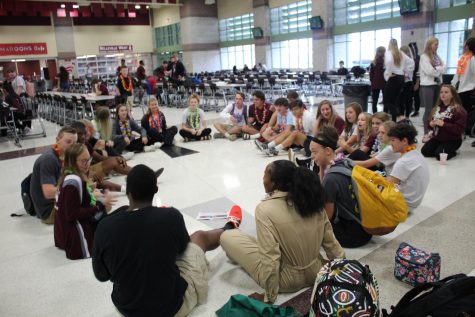 "There is going to be a little surprise coming at you, of something else. It's not a dance, but I think people will like it," Mrs. Quandt said.
Donkey basketball will also be replaced for an alternative for the seniors by bringing back Dancing With the Stars. This was done four years ago.
"People will love the pep rallies coming up, and I can't wait for homecoming," junior Dajah Gilmer said. 
Although the dress up days for homecoming have not yet been approved, the information will be available soon. Student Council also wants to switch it up a little and bring in new pieces to make everything more fun. 
"The theme overall is happy habitats, which I think is kind of cool, kind of fun, and you can do a lot with it," Mrs. Quandt said. 
Student council also changed some of the hallway decorations to mainly just the windows so it can be seen easier and for a longer time.
"I'm really excited about Fun Fridays this year and bringing positive vibes into the school, and making kids excited to come to school. I'm also excited for some changes during homecoming and all the new stuff this year," senior Jill Mentzer said.
Also, as a new activity, they are going to start cleaning out spots in Belleville once a month. They have designated Saturdays where anyone can come out and help. The student Council really wants to try and do all they can to make this year a super positive and all around great year for the students.
"Success is also probably another main thing for this years theme," Gilmer said. 
Student Council has a lot on their plate this year with new and exciting things such as Spirit the City, Homecoming, dress up Wednesdays, Fun Fridays, Halloween, veterans assembly, West Helping West, and many more events.
"I'm super excited and I think this is a really good year and it's going to be great, and everyone is working really hard to make that way." Mrs. Quandt said.