Girls Volleyball Plays in Playoffs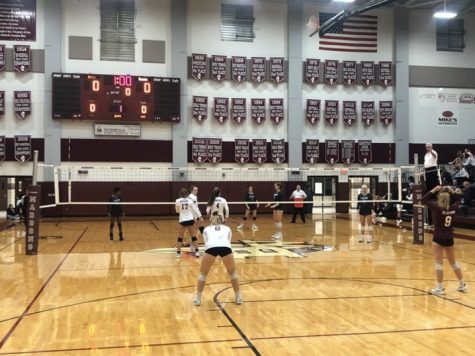 The girls volleyball team played in the first two rounds of regionals back in October after going 20-17 overall.  They were able to advance against cross-town rival Belleville East, and later took on their Catholic counterpart, Althoff.
"The games were definitely fun playing against our cross town rivals.  During regular season we won our first match against East and they won the second conference match, so it made the regional game extra exciting for everyone," junior Kylie Gagen said.
With both playoff games being against their cross-town rivals, the pressure was on the perform.
"We were really pumped up for both games because it was city rivals and we put all of our effort into the games because it could have been our last," junior Kaytie Kossina said.
The games carried more weight than usual given the circumstances, and made it tough to have steady emotions. 
"It was really stressful watching them.  The varsity girls were all really positive and had a lot of fun on the court," freshman Ashley Geluck said. 
Following their win against Belleville East, West played Althoff–one of their toughest competitors.  
"For the Althoff game we knew they were a really strong team and we would need to be on our A-game to win.  Althoff being known as a great team gave us some extra motivation and excitement to go out in the regional championship and give it our all to win," Gagen said. 
Unfortunately, Althoff got the best of Belleville West, beating them in two games. 
"It was easier to get more excited for the game but it was difficult to keep our energy up as the game went on.  I think after we lost the first set to Althoff we got down on ourselves," Kossina said. 
Although they were knocked out by Althoff, the season was still exceptional.   A record of 20-17 got them into the playoffs, and with a mostly young team, can hopefully help them to build on something for next season.  
"We had a good season with a lot of big wins and competitive games.  Getting to play everyone in our conference twice made games exciting and it was an extremely fun season," Gagen said.