Fiedler Twins Finish 12th in State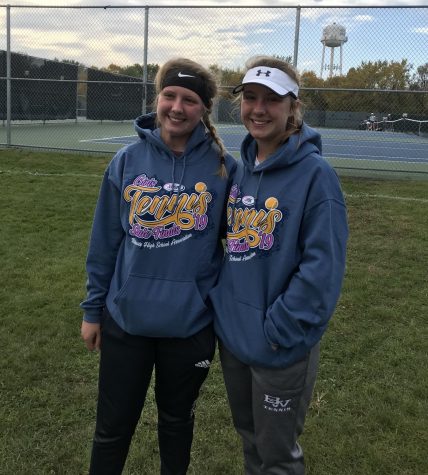 Most high school athletes only hope to make it to the IHSA State Competition; sisters Kaitlyn and Taylor Fiedler did just that. Not only did they compete, but they also managed to place twelfth out of many other teams of doubles. Both girls, along with their team, had a tireless day full of tennis during the state matches.
"At state we did not get a break. We never had an easy match or a break. We had to be on top of our game the entire time," senior Taylor Fiedler said. 
When competing against the best teams in the state, easy is not in the job description. Luckily, the team walked in prepared and ready to win. 
"The most memorable part was hanging out with my teammates who came along with us. We made some memories I will never forget," senior Kaitlyn Fiedler said. 
The girls even had time to make a few TikToks during a rain delay. These little moments had to help with all of the stress and anxiety in the air! The long day full of smiles, sweat, and tennis balls flying resulted in one of the most memorable days for the team's members.
"The best part of my whole tennis experience was winning the matches we did," Taylor Fiedler said. 
Along with this, Taylor also shares some advice about how to make the wins much more special. 
"Next year, obviously practice hard, but also make many memories with your team. Without a strong bonded team, the wins you have do not mean as much. They are only special if you have a team to celebrate them with," Taylor said.
Kailtyn definitely agrees with her sister, and shares the same hopefulness for her teammates. 
"The team always does better when there is a family atmosphere. I was so happy to share that moment with the people who came to support us," Kaitlyn said. 
After these two girls played their last match for Belleville West, they had some more advice for their teammates. 
"Some advice I would give would be to enjoy the years you play your sport. It goes by in the blink of an eye," Kaitlyn said.