New Annual Event Unites Belleville with Spirit
Every year the two rivaling schools of Belleville come together to join in one celebration of Spirit the City. The preparation for Spirit the City takes a lot of work. The event was organized by Mrs.Quandt and assistant principal at East, Mr. Brent Whipple.
For a week, students have been running around placing pieces of artwork around downtown Belleville, Fairview Heights, Millstadt, and other cities. Along with the paintings, East and West choirs and bands joined together to perform before the football game. A rock garden has also been created for this special event.
"It really was like a week-long effort, it went where they picked up the paintings and started placing them around a week before Spirit the City," Mrs.Quandt said.
Everyone got involved including some kids in kindergarten and first grade.
"It was really cool how all the feeder schools could create art pieces of their own. The kids were wearing the spirit the city shirts to school along with the teachers matching them. Seeing everyone come together and doing one thing was really cool," senior Morgan Courtney said.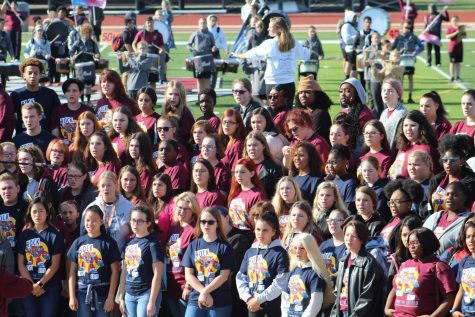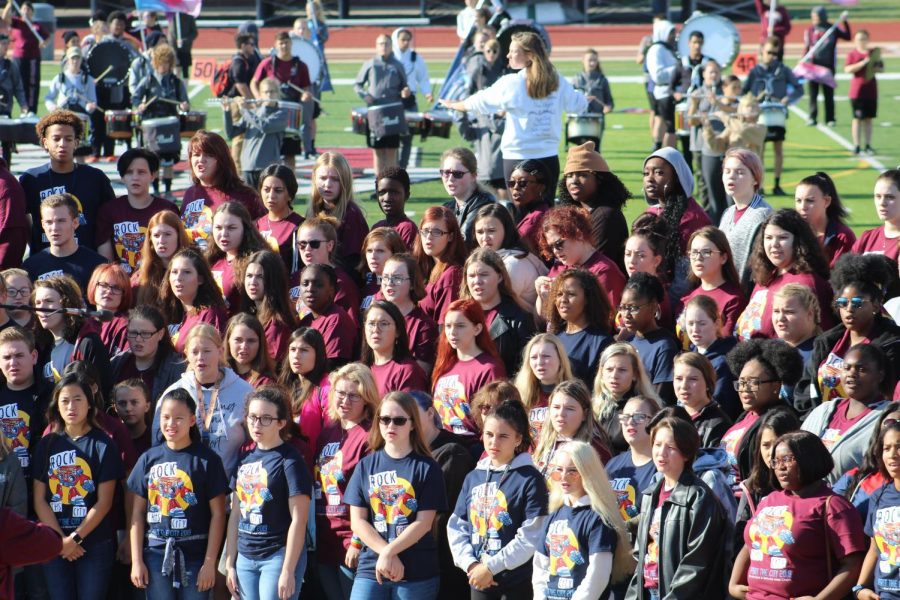 Along with the paintings, West and East also joined together for a big performance before the game. The theme was rock this city so the band played We Built This City and the choir sang Don't Stop Me Now. To finish off the performance, together they played the song  R.O.C.K. in the U.S.A. There were
around one thousand band and choir members on the field at one time, joining together.
"I thought the music was a fun choice to play and listen to. The sound was aweing, I was very impressed with the outcome," freshman Emma Loewe said.
Since the overall theme was Rock the city, Signal Hill came up with the idea of a rock garden. Every school is painting on the rocks for the garden. The garden can be found in downtown Belleville.
"It will be a little Community Rock Garden to add color, which will be really fun," Courtney said.
Spirit the City is predicted to be a bigger celebration each year the longer it continues. The tradition also continues to bring everyone in the community together.
"Next year it's going to be even bigger and we are going to get a lot more involvement from other businesses and from the community," junior Regan Hutchinson said.
Spirit the city is a tradition that Bellville West will continue to carry out each year. Most people continue to look forward to the festivities every year once the previous one has ended.
"I will most definitely continue going to Spirit the city," Loewe said.