LITtle Club Returns with Big Plans (and New Books)
Students who are interested in young adult literature or just looking for a new club to join should look no further than Project LIT, one of the book clubs that West offers. Each semester, one young adult book will be discussed at the lunch meetings. This is a great way to meet new students, get involved, and read new books that are relevant to high schoolers.
This is the second year that Project LIT has been at West, and there will be two meetings this year instead of one.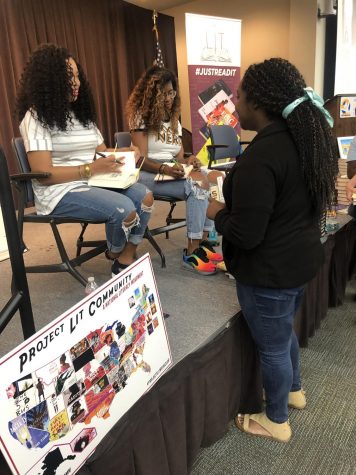 "The first meeting is Tuesday, November 26 during lunch hours," Ms. Ursani said. "This meeting is the last day before Thanksgiving break."
There will be one meeting per semester. The second semester meeting will take place before Spring Break. The meeting is during lunch hours for the full hour.
"Project LIT is a book club that meets on-campus for your lunch hour," Ursani said. "We eat lunch and discuss the book that was chosen for that meeting, which is actually from a national list that young adults have read and enjoyed.
During the meeting, lunch will be provided. After lunch, students will get into groups with other members to discuss the book.
"We have ten leaders who have been part of Project LIT from last year, and we have done freshmen and sophomore class visits," Ms. Ursani said. "These leaders will take a group of members at the meeting and each group will have their own discussion on the book and write discussion questions."
The book for the first meeting is Monday's Not Coming by Tiffany D. Jackson, who also wrote another popular Y.A. book Allegedly.
"Monday's Not Coming by Tiffany Jackson is the book we will discuss for the first meeting," Ursani said. "She is also the author that is coming in May to talk to us in-person, so that is also why we chose it."
Monday's Not Coming is a mystery and thriller, and is about the mystery of a teenage girl named Monday who disappeared but nobody cared to notice except her best friend Claudia.
"Claudia's best friend Monday disappears but nobody seems to care about where she is except for Claudia," Ursani said. "It has a lot of twists and turns, and it is a great mystery and thriller."
Project LIT is different than the Belleville West Book Club because Project LIT reads books specific to the young-adult genre, while the West Book Club often reads traditional novels and non-fiction books.
"I love Project LIT because I enjoy reading the young adult genre," said junior Malaysia Ford. "This is my second year in the club and I have loved the variety of books I've read."
Many Project LIT members have started reading this semester's book, but it is not too late to join.
"Monday's Not Coming is a great read. I also love this book because Tiffany Jackson is a great author, and she writes books that are out of people's comfort zones and are really eye-opening," said Ford.
Project LIT leaders that are returning members from last year visited freshman and sophomore English classes to inform students about Project LIT.
"We have over 200 students who want to join," Ursani said. "If you are interested, there is a membership form you can fill out which will let you join the Google Classroom for Project LIT."
Students who don't yet have a membership form from a class visit who want to join can stop by B323 to pick one up from Ms. Ursani.
"Project LIT is a great book club, any many students are returning from last year, so come pick up a membership form if you are interested," Ursani said.