Belleville West Takes on Fort Zumwalt
Belleville West Maroons football team played the Fort Zumwalt Jaguars last Friday night, September 16th. Although they lost 35-14, the energy and participation from the crowd was at a maximum the entire night.
"Win or lose, the cheerleaders are there to support. It's easy to keep our spirits up when a crowd is still participating, even when we are losing. But, even when we aren't, we know that there's another game and that the boys tried their best," senior Mya Wirth said.
Although everyone wishes that each football game would be a victory for Belleville West, the actual football game is only one part of what makes the night special.
"The best part of any football game for me is right before the team comes out; because, in that moment, the band, cheerleaders, and student section are working in unison to cheer on our players to victory," senior Nina Goodrich said.
The day of the game, Belleville West had the Maroons Are Great assembly in which students and faculty showed their support for the fall sports teams.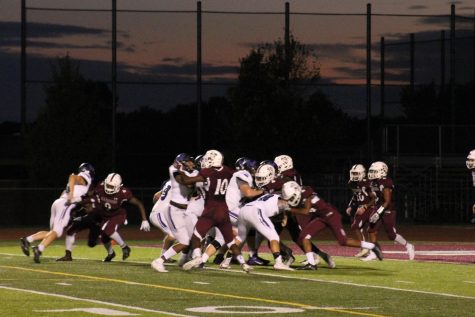 "I think the Maroons are Great assembly got the football boys the most excited for the game. From the dance, to the chant, the boys had a blast. Also, seeing how great our school spirit is made the rest of the school excited for the game," Wirth said.
While the Maroons were energized from the assembly, Fort Zumerwalt's offense proved to create a little bit of a struggle.
"I feel like we could have done better both offensively and defensively, and the loss will definitely be a setback for our upcoming game against East St. Louis. I think our biggest focus for our next game is to just stay disciplined and have good communication," senior Markyre Hogan said.
As the Belleville West football team prepares for their next game, the cheerleaders, members of the band, and the Maroon Madnezz club are hoping to keep the same energy from Friday night's game.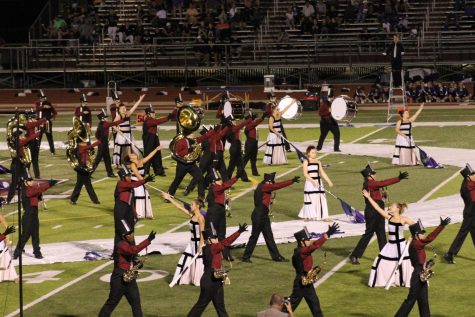 "The band has worked really hard to put together a top-level show where everyone has enthusiasm and focus. In all seriousness, people should come to the games to show school spirit and experience an activity that truly brings all sides of the school together," Goodrich said.
The results may not have been in Belleville West's favor Friday night, but there are many more games and opportunities to come. 
"We were all a little heartbroken after the game but we knew we had to recognize and admit our mistakes and move on. We need to focus on what's next for us and the games to come. Losing is just a part of the game, but it's what you do after the losses that show how great of a team you can be," Hogan said.