Girls Tennis Serves Up a Good Season
As Fall sports begin their seasons, girl's tennis is already underway.  Coached by Coach Mennerick and Coach Comley, the team has already won many of their matches, and they placed second in the sixteen team Centennial Invite.
"Our team goal is to finish at the top of our Southwestern Conference and qualify for the Illinois High School Association tournament," Coach Mennerick said.
They practice hard and play harder to achieve their goals, but tennis is not all physical. Many of the challenges for teams in tennis come from their mental aspect. 
"Sports are just as much a mental game as a physical game," said junior Alyssa Riley.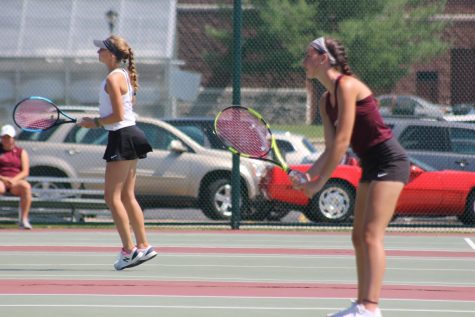 The determination these ladies have in their matches is what gains them their many victories, and it is something that makes this team special. Their mental states on and off the court keep them motivated. 
"The best thing is our confidence, because we never doubt we can win," sophomore Caroline Koch said. 
Having coached tennis for Belleville West for several years now, Coach Mennerick knows what may be the most challenging for her athletes.
"Tennis requires both physical and mental preparation. Mastering the mental aspect of tennis is so important in playing in the competitive level," Coach Mennerick said. 
Another advantage this team has against others is their family-like relationship.
"Tennis season taught me that being close with your team can really improve your performance on the court," Riley said. 
A team that is able to work together well, is able to play well, so the team should expect to see many more wins during the duration of the season. With an attitude like theirs, the team should have no trouble accomplishing their goals, and they seem to be having fun during all their tiresome season. 
"The thing that brings me the most joy is when we have a good team win and when all of us are spending quality time together," junior Natalie Hampsten said.  
Long bus rides, long matches, and other endeavors are all worth it to the girls, as they are doing what they love to do and wearing maroon and white as they do it. Tennis may take lots of concentration, but putting in lots of devotion to something worthwhile while making memories. 
"Tennis is a game that takes patience and dedication to learn. If you are interested in trying out, it would be beneficial to talk to the coaches and get individual training beforehand," Coach Mennerick said.
As the girl's tennis season progresses successfully, the girl's will continue to engage in their craft.
"We are going a lot harder at practices this year because we know we have the capability to win conference this year," Riley said.