West Changes the Typical Routine in Hopes of a More Productive School Year
This academic school year started off different than the rest in terms of new rules. A few changes that may have caught students by surprise are ID stations and the new cafeteria breakfast policies.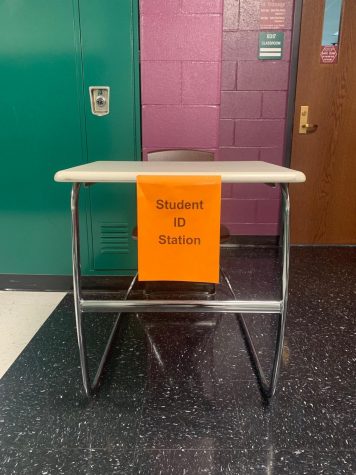 This year, if a students have forgotten their ID and did not get a temporary ID from the bookstore before the school day has begun, they must be referred to an ID station.
"ID stations came from the faculty. They were looking for a more efficient way to ensure that students are wearing their IDs and out of class less time, so they thought focus on first and second hour. The stations are pretty close to the classrooms, so they don't have to go all the way down to the bookstore or the office to get an ID," Principal Rich Mertens said.
Last year, students would be sent to the bookstore or the teachers would write a sticker for the student if they did not have their ID.
"I can't really decide whether it's easier to write the stickers or to send them to an ID station. But I do think ID stations are working out very well, and I think that the wearing of IDs is getting better because of them," Spanish 5-6 honors teacher Mrs. Michelle Washburn said.
The majority of rules such as "no headphones in the hallways during school" and wearing ID's are not new, but rather being enforced differently.
"We were having difficulties with kids saying they couldn't hear when faculty were trying to correct them for an ID violation or something, so we as faculty decided it was one way we could stop that excuse," Mr. Mertens said.
Before school, many staff and faculty members have a new duty to facilitate this change.
"I have morning supervision on the third floor, and I just make sure everybody is having a good morning and has their ID on and that they're ready to go for the day,"  health occupational skills teacher Mrs. Kaitlynn Buettner said.
Another change to West's policies specifically involves cafeteria procedures before school.
"The new thing we're doing is, in the morning when students come into the cafeteria, they sit down. They can still go get their breakfast, but after that they must be seated. They can't stand around in the cafeteria," Mr. Mertens said.
By creating new ways to help enforce old, but important rules, Mr. Mertens hopes to help improve student's experiences at school.
"We've always tried to make sure kids had their ID's on. The ethic is that this is just narrowing it down to first and second hour and, theoretically, if you have them on first and second hour, you should the rest of the day. I mean, we still get violations later in the day, but it's a lot fewer than we used to. Less time out of class, hopefully, means more learning. That's the goal," Mr. Mertens said.