Administrative Assistants Introduce Themselves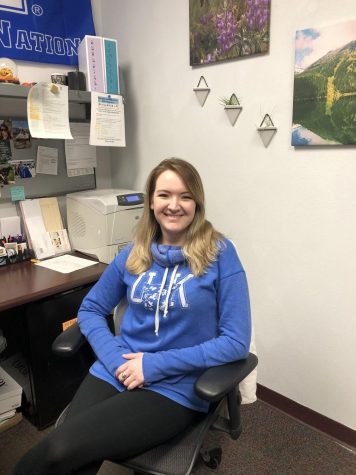 Ms. Schraufnagel has been working here for approximately two years as a Registrar, handling all student grades, transfers out and in, and report cards among other things. 
"Anything relating to grades is my primary job," Ms. Schraufnagel said. 
Not every job that a person takes has to be the dream job of their life. 
"It was a job. I had just moved back here from Wyoming and I needed a job subbing. From there I heard a position was opening up in the Assistant Principal's office, and after some shifting around, I landed in my current position," Ms. Schraufanagel said.
Each job has unique experiences that can enhance the position.
"My favorite thing about Belleville West is the camaraderie. It seems everyone is very close. It's not limited to departments, but even within departments, it's like having another family,"Ms. Schraufnagel said.
A faculty member is not defined just by their job, there are many factors to a person's life.
"My hobbies include travelling. My goal is to hit all 50 states by under 35," Ms. Scharufanagel said.
Not only does Ms. Schraufnagel work in the counselor's office, so does Ms. Cook. Ms. Cook has been working here for three and a half years.
"I direct traffic in here [the counselor's office]. Figuring out what kids can be seen and which ones can't," Ms. Cook said.
Working in a high school is not something that everyone can do.
"It's always busy and it's never boring," Ms. Cook said.
Each work environment has a unique atmosphere that makes it a fun place to work.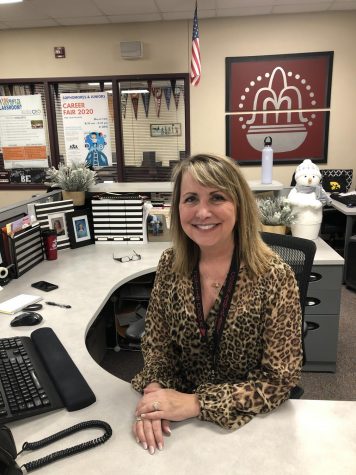 "My favorite thing about Belleville West is the staff," Ms.Cook.
Sometimes after a long day at work, a person needs to be able to do something they enjoy.
"My hobby is camping," Ms.Cook said. 
Not all the faculty works during the day. Angie Smyth is a part of the night school faculty. 
"I have been working with the district since 2001. My role is Night School Secretary, and I take care of tardies, transcripts, and filing or typing," Mrs. Smyth said.
Teachers are always looking to help students in any way possible. 
"Sometimes kids just want to come in and sit because they can't be in class because it's too overwhelming," Mrs. Smyth said.
Many teachers start at a position when they hear of an opening through friend or family.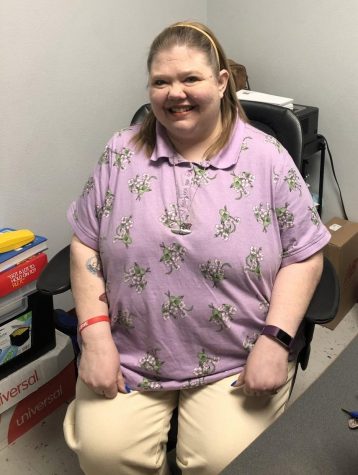 "I started with the district because both of my parents work for the District, so when my mom told me of an opening at West, I put my application in. I graduated from West so that was like a bonus," Mrs. Smyth said.
Students and teachers alike love the school for many different reasons. 
"I think it's the history behind it, the fact that I graduated from here, and the fact that I really love working for the District. This is a really good district to work for. People are so family oriented," Mrs. Smyth said.